From waiting for the newspaper to arrive in the morning to having a 24/7 remote access to the news, the transition is worth a mention. The role that the World Wide Web has played at delivering the news on the go can be tagged as the biggest revolution of all times.
In earlier times, the print media was the only source for staying informed about the happenings around the world. Things got better with the internet but what made it face a downfall was the authenticity of the news being published over the internet.
Some online news portals publish fake and misleading information that pops up across the news feed. The portrayal of the news on such portals makes people believe it to be true. Where print media has always been a regulated sector that delivered filtered and verified news, online news portals are unrestricted sources that publish anything and everything to increase their reach.
This inaccurate news running across the online channels gave rise to a new term called, "fake news." In fact, the term has been the Collins'"word of the year" for 2017.
For a fact, the invasion of social media platforms like Facebook and Twitter has been a trigger for the rise of fake news.
Have a look at this statistical report to get an  idea about how fake news has been spreading globally: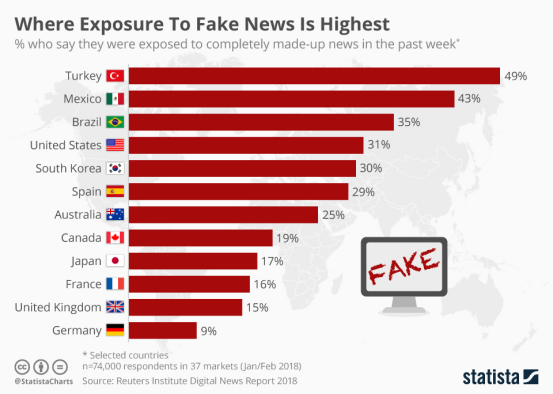 So is there a Solution?
Serving people with unproven facts and figures can be disastrous. Moreover, it should be a moral duty of every online authority to present the rightful news that promotes value readership.
But, in this world where different sources are showcasing different facts, how does one know whom to believe? Or, even what to believe? Start-ups like Snip and on G.social have stepped in to clear the mess.
Introducing Snip – A Blockchain Based Technology
The problem is that people have started trusting individual news feeders rather than authorized and centralized publishers. As an aid, Snip, i.e., a decentralized news feed platform has taken up the role of news policing.
Here writer enthusiasts can come up with easy to understand language in the form of short snippets of valuable information for the readers. In turn, readers can choose their niche before going about the corresponding set of snip posts.
How the Platform Works?
The entire system of Snip works around SnipCoin, a cryptocurrency token. The three parties involved in SnipCoin transactions include:
Writers, who are awarded SnipCoins when they come up with a fine snippet that reflects accurate information

Advertisers, who can own their dedicated advertising space by deploying SnipCoins

Readers, who can tip writers as a token of appreciation or even buy a premium version of the application using SnipCoins
The basic idea behind building a Snip-based platform is to connect avid readers and excellent writers. In other words, it is a great platform that boosts writers to deliver quality content.
5 Quick Facts About Snip
Each write-up is limited by word count

A one-stop hub for different topics

Focuses on delivering quality content

Focuses on saving time

Uses machine learning for a personalized experience
Introducing onG.social- A Fix for Social Media Platforms
According to a study, around four-in-ten US adults get news from Facebook. The same is the case with Twitter! But, is the information posted on these social media platforms, reliable? Is there any proof for the information posted on these platforms? Or is there a medium that filters out these random posts?
There have been instances of fake news on Facebook like "Former first lady Barbara Bush dies at 92." And, you won't believe how this fake news negatively affects the internet and, in turn, escalates political debates. Have a look at this statistical report: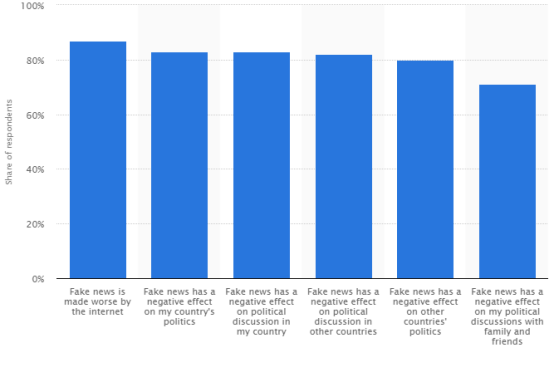 All in all, there is a need to regulate social media platforms too. This is where onG.social steps in. It is a digital blockchain based platform where real news is appreciated in the form of digital tokens (cryptocurrency).
If a reader finds the news informative and knowledgeable they can reward the account holders thus promoting quality in turn.
onG.social deploys a weighted compensation algorithm, "Gravity," that measures and rewards truth based on community accepted information.
The platform has been a driving agent in filtering the impurities and presenting one true source of purified piece of information
Handing Over the Power to the Users
The major purpose of blockchain technology in the news feed industry is to keep the users on the top by giving them the badge of responsibility to post valuable content. Though the change is yet to dominate the world of the internet, it is surely going to make big in the coming times.
In simple words, users can post, users can like, users can authenticate, and users can promote the content by acknowledging the efforts of the initiators.
Lastly, with the blockchain technology in the lead, great content with embedded quality is not impossible to achieve. The only need is to spread the word across and let users know how real can overpower the fake.
In the end, we can say that "truth always prevails."
Author Bio
James Wilson is a seasoned Content Writer at Net Solutions, Los Angeles for 7 years with an expertise in blogging, writing creative and technical copy for direct response markets and promotional advertising for B2B and B2C industries. Born and brought up in New York, Paige holds a bachelor's degree in English Literature. He has worked for industries like IT, Product engineering, Lifestyle, among others and written some great insights on technologies like mobile app development, php web development, and so on.  Besides his technical background, he is a poet by heart, who loves to connect with people through a dose of creativity and imagination.