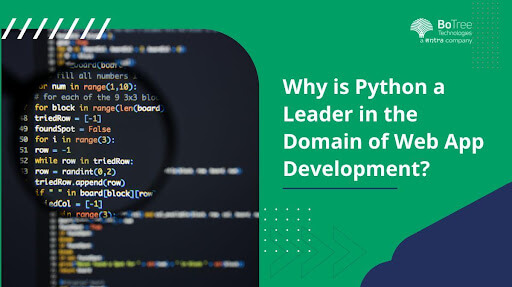 In recent times, Python has become highly popular. Major companies use the Python programming language for web development, software solutions, and digital transformation. As a result, Python is increasingly becoming the #1 programming language for all software development requirements.
Python programming language is preferred for web development due to its diverse use cases. It is a great tool for Data Science, Virtual Reality, and IoT. Because of this, top giants like Netflix, Quora, Spotify, Facebook, and more use Python for web development. It is also one of the official languages used by Google.
When it comes to building highly functional and interactive web applications, Python is a great choice. From data analysis and visualization tools to excellent performance, it offers everything a powerful web application requires.
Python Use Cases for Web Development
Companies use Python for their web development projects due to its wide variety of use cases. They can utilize Python to integrate AI in an application or create an enterprise-centric CRM. Here are some of the top use cases of Python in web development –
Artificial Intelligence

Besides using Python for building small projects, it's a great choice for web applications requiring AI and ML integrations. The programming language can create solutions that can process huge amounts of data. It can easily deal with analyzing massive traffic and easily fetch user data. In addition, developers can use Python to build Machine Learning and AI models that can be used in web applications that work with data.
Enterprise Solutions

Python is extremely useful for building enterprise applications. It is a high-level, object-oriented programming language for web app development. Python offers the scalability and readability that are required for creating enterprise apps. In addition, it is highly secure and enables enterprises to seamlessly digitize their operations.
Internet of Things

An extremely valuable tool for the Internet of Things, Python enables developers to transform any object into an electronic object with the help of Raspberry Pi. It is also useful to build embedded software, which can help smaller objects easily work with the programming language.
Image Recognition

Web applications that require image recognition and text processing benefit greatly from using the code of Python libraries. Developers can build 2D and 3D images through different tools in the Python repository. In addition, Python offers unique image and text processing capabilities that allow developers to integrate the feature into any web application.
Desktop GUI

Python works with multiple applications and has a powerful architecture for building high-quality applications. It offers several libraries and tools to create Desktop GUI applications. In addition, Python reduces the turnaround time for development by providing a simple way to create GUI solutions.
Top 5 Reasons to Choose Python for Web Development
As we saw, Python has numerous use cases in web development that make it a great choice for development teams. Apart from that, Python web development services offer a range of benefits, making it the preferred programming language across multiple industries.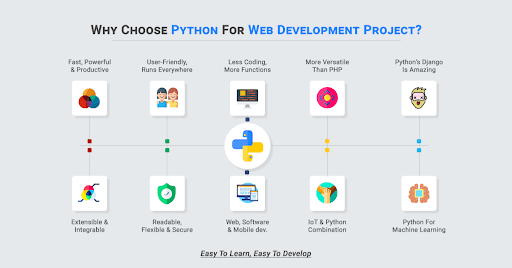 Here are the top 5 reasons companies choose Python programming language for web applications –
Libraries and Frameworks

One of the biggest reasons to use Python is the Libraries and Packages (NumPy, Pandas, SciPy, etc.) that it offers. There's a Python package for everything – from data visualization to testing. With over 150,000 packages, Python has one of the largest repositories of libraries.
Apart from that, Python boasts frameworks like Django and Flask that simplify the web application development process. Django enables developers to execute statistical analysis, numerical computation, and more to create high-level web applications.
Multi-Purpose Language

Python is a programming language with multiple use cases. From creating AI-based web applications to game development, it is a great choice for every type of web app. It is also useful for web scripting, cybersecurity, middleware development, security operations, etc.
Python provides leverage to developers when they need to integrate multiple things into a single application. Because the code is powerful, the application can handle these integrations hassle-free.
Easy and Flexible

Developers find Python easy to learn and quite flexible. The syntax is clear and easy to understand, making it perfect for beginners who want to begin their programming journey. In addition, Python simplifies complex concepts, and anyone can use the code to write complicated applications without hassle.
Python is highly flexible as well as developers get the utmost versatility when working with Python. They can integrate technologies like Java, C, C++, etc. Additionally, its open-source nature makes it easily available. As a result, developers can make powerful upgrades in the programming language for better usage.
Massive Community

The Python community is growing by leaps and bounds. Because it's open-source, developers can take advantage of the source code and make modifications that can be useful for everyone in the community.
Apart from that, numerous resources can help developers understand and master the programming language. They collaborate on different projects and provide solutions to queries with complete specifications. The community is multiplying every day as Python continues gaining popularity in web development.
Data Science Advantages

One of the major reasons Python web development solutions are in high demand is their compatibility with data science. Python is a key programming language for data science, analytics, visualization, extraction, and processing.
Any web application that works with data can use Python to build a powerful data-based solution. Hundreds of libraries exist for statistical analytics, scientific computation, data visualization, and other data-related tasks. Developers can use these libraries and build solutions like recommendation engines and other tools.
Build Powerful Web Applications With Python
Python is a high-performance, flexible, dynamic programming language for web application building. Today, web developers find it easy to create lag-free and powerful web applications – thanks to Python's prowess. In addition, it has diverse use cases that help companies build any type of application they want. It is also scalable, open-source, and flexible enough to help developers build relevant applications that can be updated based on user requirements.
If you are looking for a high-quality web application, our experts at BoTree Technologies can help. We are a leading Python app development company with the successful delivery of over 250 projects.
Get your FREE CONSULTATION today!