Let's face it: we all lead busy lives with days that feel scheduled out minute by minute. With advancements in technology comes smart home products to add to your household for maximum efficiency. Here's our ranking of the best home automation ideas that you can add to your household in 2022.
Smart Lights to Match Your Daily Life
Is there anything worse than coming home to a dark and empty house? Long gone are the days of fumbling and trying to find your light switch when you walk in! With smart lights, you're able to automate your schedule to make sure your lights come on and off exactly when you need them to. Here are our best home automation ideas for smart lights:
Create a sunrise and sunset by automatically lighting or dimming your lights
Automate your smart lights to turn on when you enter a geofence
Turn all your lights on and off through your phone
Enjoy Vacations Stress-Free While Your Home is Lit Up
Another one of our best home automation ideas is to set your smart lights while you're on vacation. Instead of your home look dark and empty from the curb, you can automatically set up a schedule, even if you're thousands of miles away! Whether you're on a beach or in Europe, your home will look lived in.
Programming Your Smart Thermostat to Your Schedule
How often do you sit at your desk and realize you didn't adjust your thermostat before heading out? When you upgrade your thermostat to a smart thermostat, you're able to change your home's temperature from your phone. Not only is this one of the best home automation ideas for 2022, but it's also a great way to save some money on your electricity bill. 
Set your thermostat to follow your daily schedule, or let your thermostat figure it out for you! Not sure how that looks? Here's our recommendation for a thermostat schedule:
Adjust temperature when you wake up
Turn off when you typically leave for work
Turn back on around the time you normally come home
Adjust for bedtime
Not only will your thermostat do it for you automatically, but you're able to adjust the temperature and time if your daily schedule changes.
Automate Your Home Security With a Click of a Button
Upgrade your home security system by automating it to fit your lifestyle! There are a few different ways you can level up your security through automation. Here are some of the best ways to do it:
Switch to keyless entry locks. Not only can you ditch your keys, but your smart lock can automatically lock when you're out of your home or can be set on a timer.
Utilize a home security app that allows you to lock and unlock your doors with a click of a button
Install motion sensors that send real-time notifications to your phone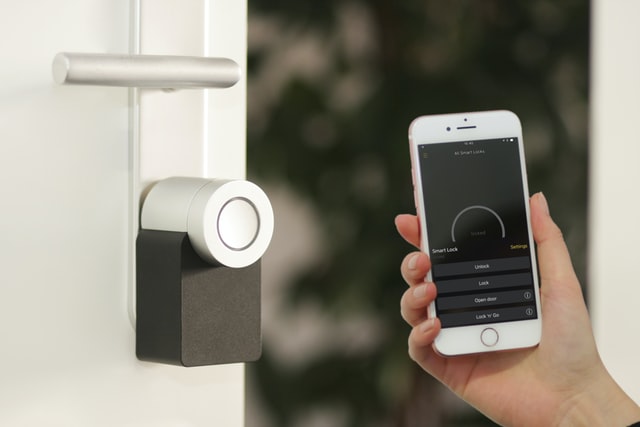 Utilize Amazon Alexa For Daily Life
While Alexa is a great go-to source for quick jokes, simple questions, or playing music that's stuck in your head, you can also automate it to work with your schedule. You can set alarms throughout the day, control your lights or set up routines.
Alexa Routines
Set routines with your Alexa to set up your day. You can create a morning routine with alarms, turning on lights, or even automatically playing the morning news. Upgrade your morning routine with this great home automation!
You can also set nightly routines, such as dimming the lights at a certain time, playing calm music, turning on your security system, or even reading you a bedtime story.
Look Towards Smart Solutions For Your Daily Life
Living in a smart home is a great idea to advance your life. Not only will you feel like you've just stepped out of an episode of "The Jetsons" but you're able to automate daily activities. Say goodbye to menial tasks, and step into a tech-friendly future with the best home automation ideas.