Dota 2, Call of Duty, Minecraft, and even World of Warcraft – online gaming is here, and it is here to stay. Several years ago, many concerned parents were complaining about the time their teens spent on online gaming. Today, we find that parents have become far more accepting of this fun hobby.
For a good reason too. Online gaming has some excellent benefits that we will discover throughout this article.
A global community becomes a global village.
When we started our investigation into the positives of online gaming, the team at Pelajaat.com gave us some excellent insights.
"Online gaming with its benefits and without harm belongs to everyone. Many may have prejudices about online gaming, but in today's world, people's own gaming community, from Habbo Hotel to Dota 2, can offer the same value as a local basketball gang or pottery club.
The researched benefits of gaming are indisputable and already familiar to many: for example, memory improves and speeds up, one can learn new skills and languages, and boost social life. The latter, in particular, has been emphasized during the Covid-19 pandemic. Gaming can also be casual or hardcore – exciting or relaxing, basically something for everyone. It's also always fresh. This is ensured by countless genres and the ever-accelerating gaming market.
These great qualities are worth protecting because there are ways one can harm its relationship to gaming. Susceptibility to gaming addiction is, of course, one thing. In addition to that, it has also become more common to pursue an esports career in recent years, which is a good thing, but it shouldn't be forgotten that gaming at its deepest is having fun. One should not forget to enjoy the game. For many, gaming is one crucial part of life, along with other things. If one finds itself playing at the expense of other essential things, you might want to take a break.
A healthy attitude towards gaming increases its benefits and enjoyment for all. Let's play!"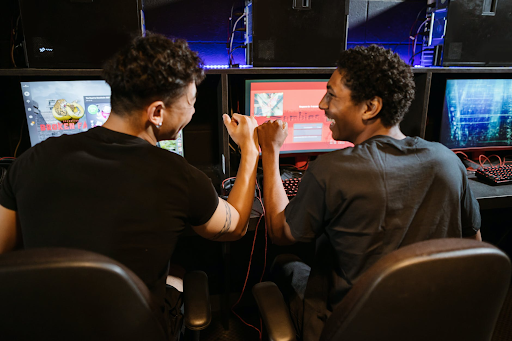 IDC Games is an online game distribution platform for pc games that offers game developers content delivery, user registration, in-game payment solutions, loyalty programs, Eports, video streaming solutions, live chat, and a customer support system for all its published games. The IDC Games team adds a few more benefits of Online Games:
Tons of games and fun at home
One of the most outstanding benefits of online gaming is that you don't need to go out of your home. All you need is an internet connection in order to enjoy a huge variety of games.
Socialization
When you play online you meet people which can even get to be your friends. There are a lot of cases in which 2 people met in an online game and finished getting married.
Online games finish boredom
It is normal to get bored, especially when you are tired. Boredom often causes negative thoughts, and can easily cause depression if you don't interact with people. As mentioned by gaming experts a mind-blowing game can keep your mind engaged. As you play, you will be psychologically and mentally active, and the chances are high that you will get the peace of mind you need.
Online games relieve stress
Multiple Scientific studies have found a direct connection between online video games and stress reduction. According to the studies, the level of cortisol reduces by more than 17% when playing. The significant decrease in the stress hormone improves recovery from stress, helping you to relax, have fun, and have excitement.
We agree wholeheartedly. Today, the entire world has been turned into one friendly global village. You can pick up a controller and play with your friend in Finland and the UK. 
Did you notice that? Years ago, having friends in different countries was unheard of. Today, we all have friends hailing from all over the world. It isn't uncommon for couples to meet online while playing a game. Some of these long-distance relationships turned into real-life romance stories. Besides, bonding over a common interest, such as online gaming, is one of the healthiest experiences that couples can go through.
We can be social without being at risk.
Not only do we now have friends from all over the world, but we can also be social without putting ourselves at risk. This was especially true during the darkest days of the COVID-19 pandemic. 
For some, stuck indoors due to hard lockdowns and curfews, online gaming was the only way to connect with friends and be social. Several games, such as Guild Wars 2, saw players organize all-night parties and events to keep their spirits up. Despite being removed from each by thousands of miles, the connections between these gamers were real.
Statista reports that there are over a billion global gamers today participating in online gaming. This massive community doesn't only offer us the fun of being social and supports us when we feel down, but they also help improve our knowledge and skills.
Friendly communities like those at time2win.net gather players that help each other reach mutual goals in online gaming. But, also, gamers here can find the best and most advanced software that will give them the most intense and awarding gaming experience they have dreamed of. 
We improve our skills when playing online.
Another thing, that our friends at Genvel.com reminded us about, is the fact that online gaming exposes us to new skills. 
Suddenly you are picking up phrases in Spanish and German. Online gaming not only improves your language skills but also teaches you how to manage teams and take responsibility for your actions. 
This newfound knowledge helps you to communicate and strategize better. Gamers are some of the best team coordinators that you can get. You get exposed to different cultures, various ways of thinking, and yes – thinking outside the box.
All of these new skills have real-world applications too. Next time you order that tasty sandwich from a German restaurant, you can use a couple of German phrases that you learned while playing games online. 
At the next corporate retreat or team building session, ask your gamer colleagues to help finetune a strategy for beating the opposing team.
Online gaming is becoming a career.
eSports are quickly becoming bigger and bigger. Some schools in America are even teaching eSports as a class. Today, League of Legends, Dota 2, and Call of Duty have some of the highest-paying tournaments globally. 
This creates exciting new job opportunities for gamers. Everybody benefits from the online gaming community from coaches to organizers, marketers, and players.
Online gaming and the Cyberpunk genre
We are more and more connected, may it be on PC, console, or on your mobile phone, we're already permanently online and able to reach everyone we care about, and that can also be your favorite game community on Reddit or Discord, but the next step is almost there thanks to technological advance spearheaded by geniuses such as Elon Musk. His StarLink satellite internet will allow us to be online no matter where we are on Earth, but there's one step further: NeuraLink, his startup currently working and making great progress on implantable brain-machine interfaces, which will make us "enhanced" humans. If you are into this type of futuristic technology and are a gamer, you should definitely try Cyberpunk 2077. The game is not only a great experience, it allows you to discover what society could become tomorrow, with humans using cyberwars to upgrade their bodies with a simple visit to a cyber doc. Cyberpunk 2077 also has a great community, with many positive reviews pouring in lately from new players who are finally enjoying this game thanks to a large number of bug fixes. This action RPG has an incredibly immersive and rich storyline that will leave you breathless and you'll definitely want to share how it made you feel with other Cyberpunk 2077 players. If you're new to this genre and want to get the most out of this masterpiece of a game, you should consider following a guide, such as Jame's Cyberpunk 2077 100% Walkthrough, which takes you through all the steps to becoming a Night City legend!
Are you ready to start playing online?
There you have it—some pretty incredible benefits to playing online. The online gaming community is a thriving, healthy community. They are accepting of all types, races, genders, and cultures. 
Of course, like most things in life, you should only play games responsibly. Don't neglect the real people in your life. If you can balance a healthy online gaming lifestyle with your relationships with real people in life, you will be happier and more successful. Happy gaming.