Lead generation has always been a challenging task because of its complexity.
Having in mind that businesses don't exist without their customers, it is not surprising that whole teams and departments work for the same goal – finding more and more qualified leads.
As you already know, the sales process involves not only the bottom of the sales funnel, but also creating products or services themselves, and even a number of steps that come before that, like creating a target audience.
It is important to optimize your sales process because you don't want your potential buyers to lose their interest.
To prevent this, here are the most important techniques for achieving an optimized and successful sales process.
1. Identify your target audience
The importance of choosing the right target group is huge. Your target audience will actually influence everything else you do.
When you really know who you are addressing, you get a very good start for everything else you intend to do.
Even if you have already started with other steps such as product presentation, selection of sales channels, and so on, and you have not defined the target group clearly enough, go back to it and afterwards change everything else accordingly.
This is the initial and key step in creating an optimized sales process.
In order to make it easier to form a target group, imagine an ideal buyer persona – a representative of your customers.
Make a set of questions and start researching. Based on that, you will create your perfect customer and you will know who you are addressing and trying to convert.
In order to achieve that, the best way is to use the chatbots, integrated with a well-designed knowledge base software. Intelligent chatbots can identify patterns and respond appropriately, meanwhile collecting valuable information about your potential customers.
After determining the gender, age, location, and other basic characteristics, move on to more complex questions such as what interests your ideal customer, how he spends his free time, what he spends the most money on, and similar.
Keep in mind that you can have two types of customers:       
Primary target audience
Secondary target audience
Let's explain that using an example so that it doesn't confuse you.
For example, let's say you sell women's jewellery.
The primary target group would certainly consist of women, aged, for example, 20-50 years, of average or higher purchasing power.
The secondary target group would consist of males who want to surprise their better halves with a gift for a birthday, anniversary, or similar.
Therefore, you will also create duplicate content to address both target groups, and the content you create will depend on who you are addressing at the time.
Everything you learn about the ideal customer will help you find out exactly how to address your target audience and it will also help you create quality content.
2. Distribute quality content
Your content is a crucial part of the sales process. It presents the product or service you want to sell.
To retain the attention of potential customers, your content must meet at least one of the following purposes:
To educate
To entertain
To inform
To solve a problem
Ideally, quality content combines two, or even all of these categories.
Content that intrigues and affects the interest spheres of a certain target group is also the one that retains your leads and guides them further through the sales funnel.
To interest and retain people, try to combine multiple types of content including textual content, visuals, videos, infographics, tables, and similar.
Of course, everything you create should be in line with your product or service.
Sometimes the content alone will not be enough to encourage the purchase, but there is a solution for that as well.
3. Implement adequate pop-ups
Pop-ups are a great solution to optimize your sales process and increase conversions.
Engaging pop-ups need to have:
Visually appealing design
Catchy copy
Right context
Irresistible offer
CTA
It may seem like they can require a lot of time, but today you can use tools that can help you to create this kind of window in just a couple of minutes.
These five basic elements are crucial for an effective pop-up window.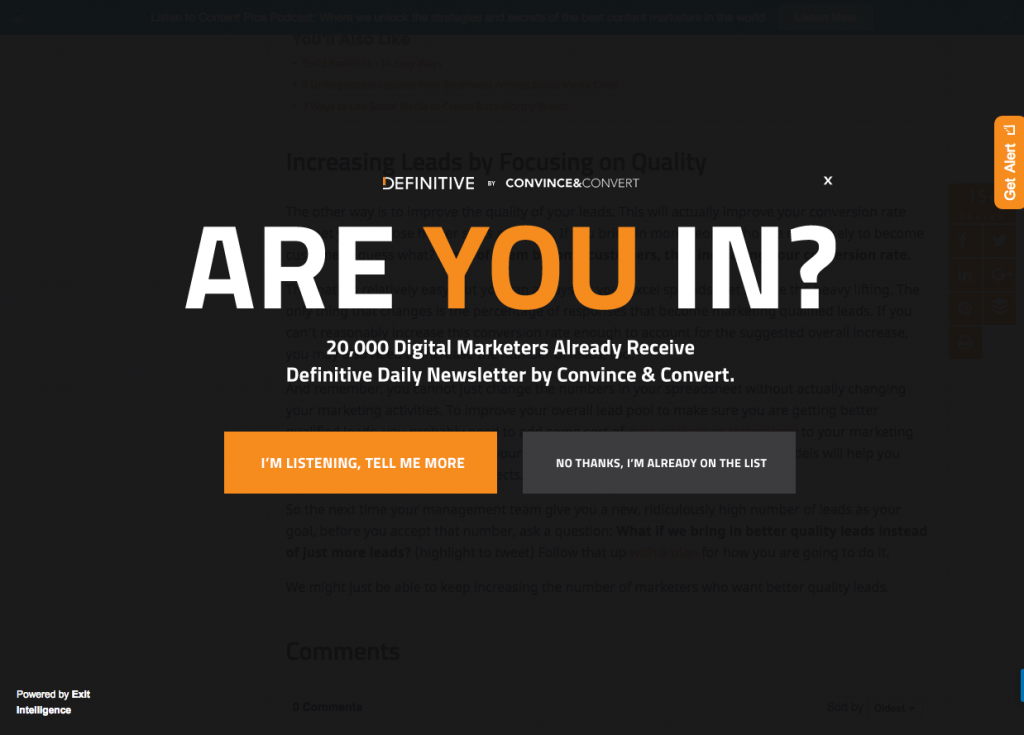 Source: Convince&convert
In the example above, we can see how these elements' full potential was actually used.
The design is simple, but effective and tailored to the target group's needs. There is not a lot of persuasion or excessive effects here, because the people who came to the website already know what to expect, and the offer itself is just a continuation of the content presented on the website.
Although the goal here is not direct sales, the email popup campaign is an extremely important part of nurturing leads, which will be discussed more in a minute.
You need to create a certain pop-up depending on what you offer and what goal you want to achieve.
Still, if you want to encourage your leads to purchase immediately, you can offer some benefit that will encourage them to make a purchase as quickly as possible.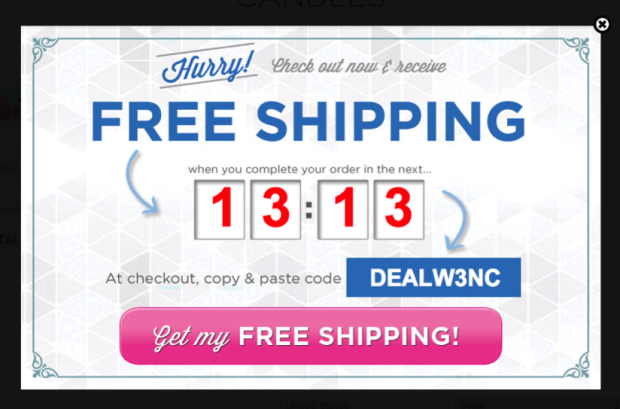 Free shipping, discounts, or flash sales are all old but still really good practices.
Perhaps one of the most important advantages of pop-ups is the possibility of using exit-intent technology.
As its name says, exit-intent pop-ups are windows that appear when a visitor tries to exit your website.
At the same time as this intent appears, it triggers a window that presents your best offer and keeps potential customers on your website page.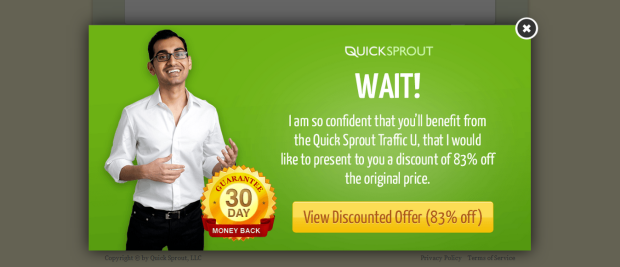 Source: QuickSprout
With a simple but powerful word 'WAIT!', QuickSprout pop-up grabs the attention of a visitor and creates a surprise effect.
This example also includes a human element which increases the possibility of the brand gaining the target audience's trust.
It is important to make as many interesting offers as possible because it is your last chance to keep your leads and convert them into customers.
4. Create an e-mail campaign
E-mail campaigns are a perfect way to nurture your leads.
" By having your customers' contacts, you are able to spread awareness about your brand and maintain communication with your leads. "— says Dhaval Sarvaiya, co-founder at Intelivita.
Even those leads that are cold may become interested in your business more and more if you share valuable content with them through e-mails.
Not just that you can share valuable information and announcements, but you can also offer discounts and special offers with personalized messages.
A personal touch can have a great impact on your potential customers and show them that you really care about them.
But how can you invite people to become your newsletter subscribers?
Besides the regular contact form that is part of your website, you can implement pop-ups with a short form that will include a field for an e-mail address and a CTA button.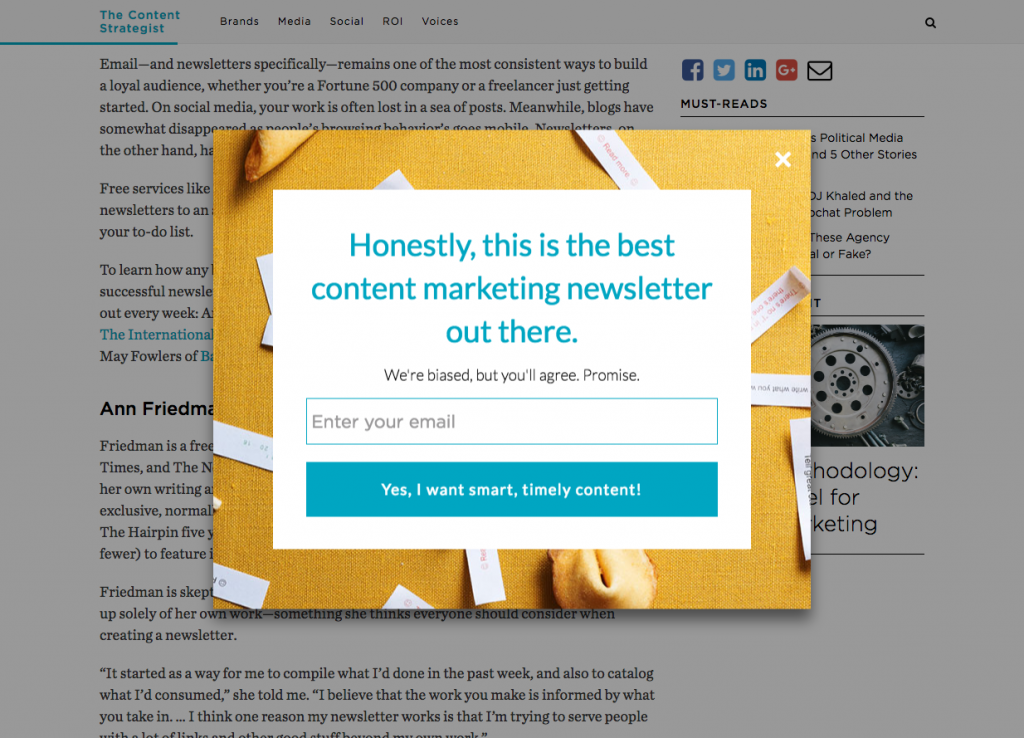 Source: Contently
This example shows how to use a pop-up for newsletter campaigns in your advance.
An interesting design catches attention and effective copy intrigues the target group and makes them want to leave their addresses and find out what Contently can offer them.
5. Measure and analyze results
If you don't track and measure your results, you will not have the right insights on how your business is progressing.
Track your conversion rates, ROI, number of e-mail subscribers and sales, and find out if you are on the right path or is it time to change something.
Based on your business, determine your most important and less important KPIs.
Compare your results on a daily, monthly, and yearly basis.
It is a good practice to monitor the tactics of your competitors, too.
By analyzing their strategies, you can get some new and fresh ideas and implement them later on into your business strategy.
You can use basic tools such as an Excel spreadsheet to keep track of your important KPIs. Use a simple excel test to assess the skills of your marketing team, to address the skill-gap.
6. Identify sales funnel leaks
Since the sales funnel is made up of different stages of the sales process, leads will leak through different stages of the sales funnel.
It is inevitable that a number of people who have entered the sales funnel will, in the same way, come out of it.
Take, for example, an advertising campaign on Facebook.
Your ad will reach a certain number of people, but a slightly smaller number of people will click on the link too, visit your page, website, and similar.
From this second group, a certain percentage of people will buy your product or service.
Not all leads will buy what you offer, at least not right away, but it is up to you to increase that number as much as possible and achieve the highest possible conversion rates.
By tracking the results of the campaign, you will notice if there is a major leak from the sales funnel.
If that's the case, it's time to revise the entire campaign you created.         
The reasons why a small number of people reach the bottom of the funnel, in this case the purchase, can be different.
Just some of them are:
Too wide or too narrow target group
Low-quality visuals
Confusing copy
Broken links
Unmatched ability of ads and offers
As we have already said, you must always keep in mind the ideal customer and create everything in accordance with his expectations and needs.
Once you identify the problems, you will be able to prevent leaks from the sales funnel and optimize the entire sales process.
The bottom line
Although creating and optimizing the sales process may seem complicated, after you use the first piece of advice from this list – identifying the target group, it will be much easier for you to fix all the other items.
The appropriate target group is the main guideline for optimization.
The better you understand and know it, the easier it will be for you to build a powerful strategy that will lead to more sales.
Regularly analyze and update your sales process to achieve long-term goals and to keep your business growing.