Building brand loyalty and retaining customers is one of the most important factors for the long-term success of your business.
If you feel like you're constantly trying to keep up with your customers, we've compiled a list of 7 tools that will help you retain your existing customers so you can focus your time and effort on expanding your business.
The Benefits of Customer
Retention
If you've been running a successful business for any length of time, chances are you already have a number of returning customers.
Customer retention includes all the tools and techniques you can use to make sure customers like these keep doing business with your company in the long run.
Like with many other aspects of business, the 80/20 rule also holds here. This means that 80% of your profits will come from 20% of your best clients, so focusing on customer retention should be one of your top priorities.
Another thing to consider is that keeping your current customer base can cost up to 5 times less than trying to find new customers. An investment in customer retention will not only bring more profits but also let you stretch your budget further.
Top 7 Tools for Customer Retention
Now that we know how important customer retention can be, we will go over some of the tools that can help make the whole process easy to set up and use. These tools will cover different approaches and techniques you can use to build customer loyalty.
Even if you do all you can to satisfy your customers, Customer Feedback is crucial for your business to know how your customers perceive your efforts and how satisfied they are with the experience you provide. Zonka Feedback, one of the easiest Customer Satisfaction Software and Survey Tool serves this purpose. With this tool, you can create surveys to collect feedback from your customers and take action on it to improve Customer Experience, enhance satisfaction and retention.
Key features
Inbuilt Survey Templates – It provides 40+ question types and ready-to-use survey templates that you can use to create customized surveys of various types for your customers, patients, students, and guests to collect their feedback.
Multilingual Surveys – You can create surveys in multiple languages to survey customers of diverse backgrounds.
White-labeled Surveys – It allows you to Whitelabel your surveys and add your own logo, branding, and style.
Multiple Channels – You can send your surveys to the customers through multiple on-premises and off-premises channels like email, SMS, website, QR codes, iOS devices, Android tablets, and smartphones.
Real-time Notifications – It's real-time alerts notify you for every response or the responses falling in the criteria set by you like negative feedback, low rating, etc
Collaborative Response System – It allows you and your team to view feedback, convert feedback into tasks, assign and manage tasks, take action, and close the feedback loop to enhance customer retention and satisfaction.
Metric Surveys – You can use the tool to create metric surveys like NPS, CSAT, and CES to measure Customer Loyalty, satisfaction, and perceived efforts.
Logic Surveys – You can make your surveys dynamic and sound more logical with the feature of Skip Logic, Hide Logic, and Survey Redirection as the questions change for the customers based on their previous responses.
Automated Surveys – You can trigger automatic surveys based on both events like a purchase, a bill payment, or a ticket closure, as well as, on a periodic basis like monthly, quarterly, or annual surveys.
Powerful Integrations – It offers powerful integrations like Freshdesk, Zendesk, Shopify, Google Sheets, Slack, and more to make your work seamless.
Works Offline – The tool works offline too. It can save the response data for weeks without the internet and syncs all the saved data to the internet once your device is connected to the internet.
Pricing
Pricing starts from @29/month. It also offers different higher plans:
Professional plan costs $79/month and offers white-labeled surveys and advanced reporting for growing teams.
The growth plan costs $169/month, designed for larger teams to manage a complete feedback platform.
Enterprise plan costs $429/month, is a Complete Feedback Management Solution with personalized support.
Custom plans are also available for businesses looking for a custom solution, price depends on business requirements.
Document360
Document360 gives you a full suite of tools needed to build and maintain a knowledge base.
This resource can be invaluable to your customers, offering answers to any questions they might have about your product. At the same time, it saves you the time and resources you would spend on customer support calls.
On top of that, strong customer support is one of the best ways to build brand loyalty. It lets your customers know you're there for them and are ready to help with any problem they might have.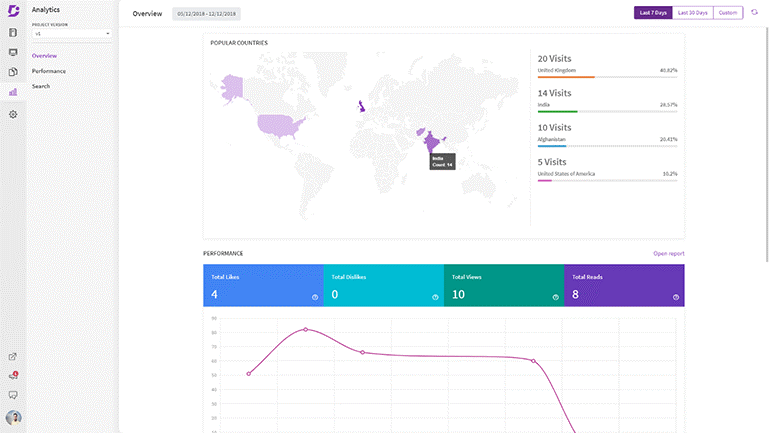 Document360 also has a handy internal knowledge base, covering all the
features they offer and showing you how to make the best use of their tools.
Key Features
Product
documentation – Tools that will help you create, preview, and
publish your knowledge base articles.
Category manager – Lets you create categories
and subcategories, use them to arrange articles, and manage user access.
Editor – Lets you manage article content and
insert additional elements, such as images, code blocks, and tables.
Branding – Allows you to customize the look
and feel of your knowledge base and bring it in line with the rest of your brand identity.
Security – Lets you backup and export your
articles and determine the level of access for your team members.
Pricing
Startup ($49 per project, per month) – Offers
a limited range of tools and storage for smaller teams.
Business ($149 per project, per month) – Full
range of tools with expanded storage.
Upsend is less focused on specific customer retention techniques, instead offering a multi-faceted approach with a range of tools that help you engage with your customers.
These tools range from automated marketing campaigns to live chat and even guided tours of your products and services. Upsend is great if you want one tool that will help you cover all the bases in an easy-to-use way.
Key Features
Customer data hub – Lets you capture and
manage customer information, sort customers by categories, and validate
customer emails for use in marketing campaigns.
Customer support – Allows you to set up a live
chat with your customers, which you can also automate using chatbots. It also
lets you integrate outside elements in your chat, such as pictures and videos,
shared files, and articles in your knowledge base.
Marketing automation – Lets you create and use
templates for email campaigns. These can then be additionally personalized
using the information from your customer data hub. You can also set up
automated email campaigns and instantly send the to customer categories you
already set up.
Knowledge base – Allows you to set up a
knowledge base for your products and sort articles by categories.
Product tour – You can onboard new customers
quickly and easily through interactive product tours.
Pricing
Free – Only supports one team member, but
offers live chat and a team inbox.
Grow ($39) – Supports up to 3 team members
with limited features.
Pro ($99) – Unlimited team members, full set
of features.
Crisp
Crisp focuses on direct communication with
your customers. It combines live chat, CRM, email campaigns, and knowledge
bases to help you set up a comprehensive customer support and marketing system.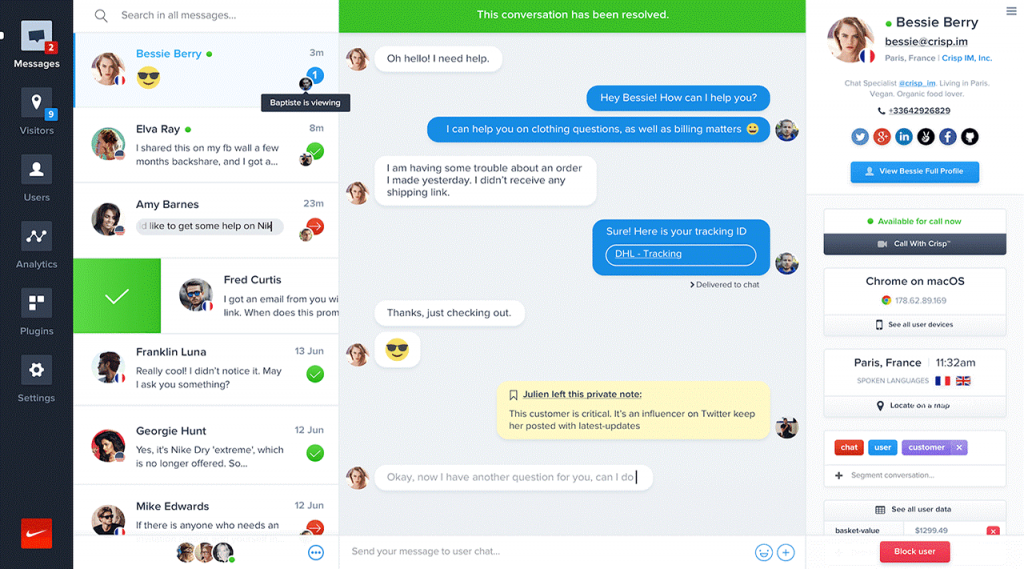 Communication is key when it comes to customer
retention. The more you engage with your customers, the more they will keep
your brand at the forefront of their minds.
Key Features
Live chat – Provides a live chat service with
an integrated inbox and lets you set up a video chat with customers.
Chatbot – Integrates with the live chat
feature to make sure you provide customer support 24/7.
CRM – Helps you capture new leads and keep
track of existing ones with ease.
Shared inbox – Keeps all incoming messages in
one place, while letting you set up automated replies.
Integration – Lets you connect Crisp with
tried-party apps like Slack, WordPress, Mailchimp, Shopify, and many others.
Campaigns – Allows you to create automated
marketing campaigns using email or in-app messages.
Knowledge base – Create and manage help
articles.
Status page – Lets you alert your customers
about changes to your products and technical issues through live chat or in-app
messages.
Pricing
Free – Two live chat seats and team inbox.
Pro ($25 per website, per month) – Four chat
seats and a limited set of features.
Unlimited ($95 per website, per month) –
Unlimited chat seats with a full range of features.
lemtalk
Similarly to Crisp, lemtalk tries to help you
make customer support easy and convenient. However, lemtalk focuses on
integrating customer support features, like live chat and email, with your
company's Slack.
Key Features
Slack integration – Provides quick integration
and expands the list of commands you can use in Slack.
Slack live chat – Integrate live chat with
your company's Slack workplace.
Emails in Slack – Integrate support emails
into your company's Slack workplace.
SMS in Slack – Receive and answer text
messages directly from your company's Slack workplace.
Facebook integration – Integrates your
company's Facebook inbox with your Slack workplace.
FAQ – Lets you set up an FAQ page for your
customers, with any support tickets going directly to your company's Slack.
Multilingual live chat – Allows you to set up
live chat in over 150 languages.
Pricing
Startup ($48 per month) – Allows 1 widget,
chat language, and rule for automation and includes lemtalk branding.
Super Hero ($96 per month) – Unlimited number
of live chats, knowledge base articles, and automation rules, multilingual live
chat and knowledge base, no lemtalk branding.
Agency ($249 per month) – Full set of tools
with unlimited access, supports up to 5 Slack teams.
Woobox
Loyalty programs are an often overlooked
aspect of customer retention. This has a lot to do with how they are perceived
since they're often associated with brick-and-mortar businesses.
Loyalty programs can be a great tool in your
arsenal even if your business is fully online. They encourage customer
engagement with a system of rewards. This is a small investment on your end
that can have a great impact on your bottom line.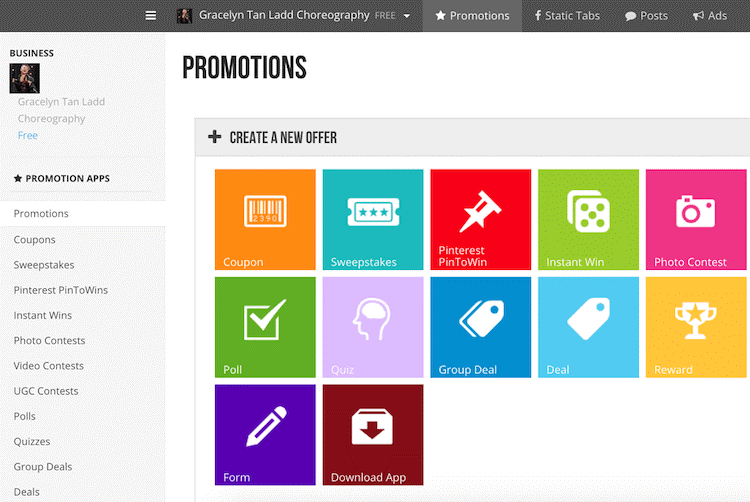 Woobox focuses on helping you set up loyalty
programs and contests on your website, such as giveaways, polls, coupons, and
more.
Key Features
Templates – Use pre-generated campaigns and
landing pages as a base for your contests and giveaways.
Customization – Change the design of available
templates to bring them in line with your company's brand image.
Participant management – Helps you easily
approve and manage participant entries and pick winners.
Integration – Allows you to customize your
campaigns for mobile devices and integrate them with social media profiles.
Pricing
Free – Unlimited campaigns with 100
participants per month. Allows Facebook integration.
Basic ($37 per month) – Unlimited campaigns
with 1,000 participants per month with access to all types of campaigns and
full customization.
Standard ($32 per month, billed annually) –
Unlimited campaigns and participants, all types of campaigns, and full
customization.
Advanced ($99 per month, billed annually) –
Unlimited access with up to 5 team members, custom HTML & CSS for your
campaigns.
Power ($249 per month, billed annually) –
Unlimited access with no limit for team members, custom HTML, CSS & JS for
your campaigns.
Qualaroo
When all is said and done, you will still need
to know how satisfied your customers are with your brand. After all, this is
what determines your brand reputation and drives customer loyalty.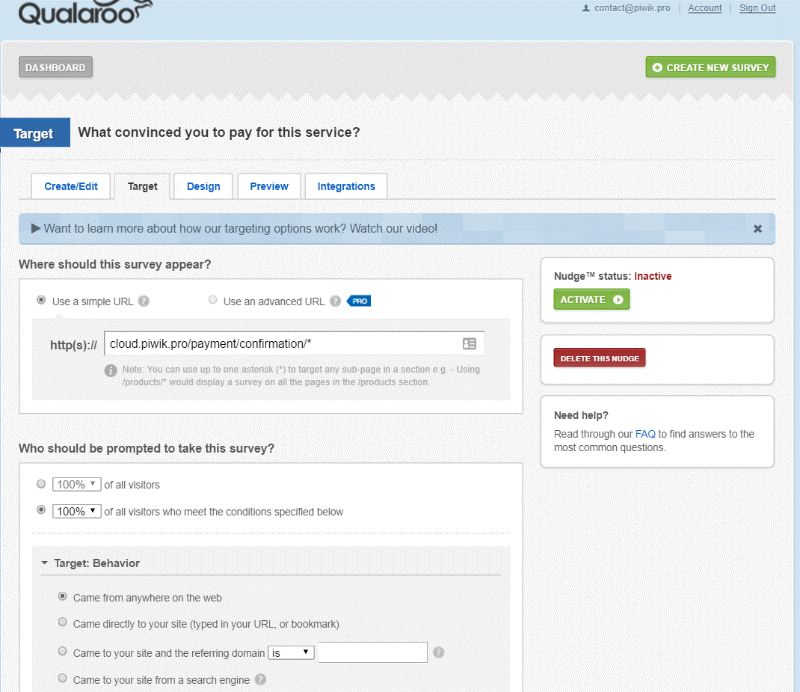 This is where Qualaroo steps in. It helps you
set up surveys for your visitors directly on your website and analyze the
results to get an accurate picture of your customers' likes and dislikes.
Key Features
Survey templates – Lets you save time by
choosing from a library of pre-generated surveys.
AI sentiment analysis – Allows you to
automatically mine customer feedback and set up actions based on the sentiment
score.
Mobile integration – Lets you integrate
surveys with the mobile version of your website.
Nudge for prototypes – Allows you to set up
surveys for design prototypes of your web pages.
Exit intent surveys – Set up surveys that will
trigger with completed purchases or if a customer is about to leave your
website.
Questions branching – Set up dynamic surveys
where the questions change based on previous answers.
NPS – Include questions that determine your
Net Promoter Score.
A/B testing – Integrates surveys with A/B
testing on your website.
Pricing
Startup ($199 per month) – Full survey functionality with up to 500k Nudge views on one domain, logo & color customization, and Google Analytics support.
Growth ($499 per month) – Full survey functionality with up to 1 million Nudge views on three domains, full customization, and advanced audience segmentation.
Turbo Growth (starting at $2,250 per month, billed annually) – Full suite of tools and customization with up to 2 million Nudge views on 20 domains.
Final Thoughts
Tracking down new leads and attracting new customers can prove to be much more expensive and time-consuming than building brand loyalty with the customers you already have.
The 6 tools we listed above will help you with this process, tackling and automating different aspects of customer retention. Also, you can check Net Promoter Score, software that can help you measure, analyze & grow your Customer Loyalty.
This will not only free up your time and let you focus on the big-picture business decisions, but will also drive up customer satisfaction, and, finally, profit.