Apparel
being intertwined with the metallic beauty, the jewelry industry seems moving
towards a glittering future. The global jewelry market size is estimated to
grow by $480.5 billion by 2025.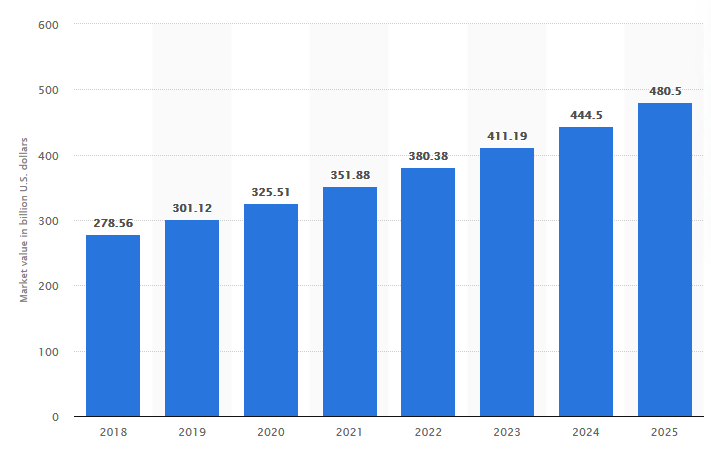 eCommerce development has added to its evolution with more choices coming in from the technology advancements and increased expectations of diverse customers' choices. But how dojewelry companies need to stay afloat in the dynamic and highly intense competitive market?Anticipating demands in the consumer world and adapting to the industry-changing trends can pave way for you to remain in the competition. It is more of a forte for online jewelry sellers than traditional industry leaders.Enforcing new techniques into your eCommercejourneyas an online jewelry retail business ownermoves you ahead and achieves you a good stand in the competition. Here we present to you some most of the exciting trends in the eCommerce jewelry industry to look out for.
eCommerce Jewelry Trends
The
low market share in the jewelry industry opens up avenues for newcomers and startups.
In addition, the fast growth has already been there for leading merchantstoo.
But, it may cost you when you dwindle between catching up fast with trendsand
falling behind authenticity. Gaining industry knowledge keeps you ahead of the
curve. Know the evolving preferences of your customers and of course their
needs. At the core of enhanced customer experiences, the device connectedness makes
the cut meaning the technologymatters above everything.
Augmented
Reality (AR)–the growth driver for eCommerce jewelry
Implementing
Augmented Reality unlocks possibilities for retailers and provides them a template
to know their futuristic capabilities. Since online retailing is more of a medium
with no concentrated physical contact; AR is up for closing the gap between
what you can see and what you want to see before the product delivery. Hence,
AR is a new dimension,which is twice as much more capable of offering immersive
and contactlessonline shopping and also in-store experiences than 3D graphics-based
virtual reality. Here, online
jewelry businesses can find it productive and efficient as they want to
integrate it for a couple of key activities such as marketing and advertising
and interactive try-on app.
Advertising and marketing
Embedded
with AR technology, all of your jewelry advertisements can connect well with
consumers when they find them interactive using their mobile apps that turnthe
items into 3D objects.
Yes,
this AR-based try-on app connects first with customers which gives them an
instant opportunity to try items physically. In turn, you could a decline in product
return cases after purchase. It gives tactileexperience and thus enriching the customer
personalization.
360-degree
jewelry product videos
Online jewelry retailers would have the last smiles when it comes to satisfying high demanding consumer expectations. Presenting to you, the 360-degree product videos! This innovative technology enables customers to have a complete view of the product from all angelsleaving confusion behind for them. You can create significant visual presentations of your jewelry items on the mediums with a higher rate of user engagement such as social media pages or personal websites. The technology is fast, immersive, and interactive to generate fast purchasing decisions. More surprisingly, Magento eCommerce development facilitates integrations of such technology more conveniently. Add 360-degree video-capturing technology to your website or get the best service from Bytes Technolab and transform your brand's recognition.
Fast
and flexible mobile payments
Consumers
are always eager to receive an extra length of convenience. There is no
exception to the checkout process too. Faster the checkout process, the more
satisfied are your customers. With the growth of mobile commerce, it has long embraced
the new era of mobile payments. But, the lack of proper connectivity between
POS infrastructure and NFC protocols interrupted its movement to the growth. However,
with enhanced support for NFC, mobile payments see a user surge and jewelry merchants
do not lag too.           Based on a
report, 71% of online jewelry owners are more eager to adopt mobile payments and
improve customer shopping experience and convenience.
The
Hidden Treasure of Wearable Technology
You
have already heard of wearable devices that are likely to grow 650 millionin
2020. Smartwatches or some more sophisticated devices such as fitness trackers have
customers falling head over their heels. Now, wearable technology is geared up toraise
the ante and consumers can expect more surprises. There are jewelry items like rings
or bracelets doing rounds in the market with features like mobile alerts or
activity tracking. As you get one, it adds to your beauty while giving you more
functional aspects to raise your level.
Interactive
and Purposeful Social Commerce
As an
online jewelry seller, you need more than a medium to scale and drive sales. Apart
from the website, social commerce gives you good opportunities to connect with customers
and intrigue them to buy from you directly without having to redirect them to
your website. The straightforward approach of social commerce that features
shoppable posts on Instagram or Facebook can engage more and trigger impulse
buying. This is much more convenientfor small business owners who lack the resources
to spend after heavy advertisements.
Summing up
The
online jewelry market is booming but it is expecting challenges too.Adopting
trends could pave your path to success. However, paying attention to innovation
and improved measures for shopping experiences is more important. Get the best eCommerce
development service to embrace the best of trends and innovation for your
digital jewelry business growth. Bytes Technolab is eager to connect when you
need help.