The eCommerce industry seems to have taken everyone by surprise across the globe. I am sure as soon as you google the word "eCommerce", you will come across a wide range of information such as what eCommerce is, how it works, how it is beneficial for businesses these days, and so forth. However, there are several nuances of eCommerce which no one talks about. Fret not, the following post covers it all!
It seems pretty uncanny that even though eCommerce being such a renowned trend, businesses often tend to ignore the emerging marketing trends and end up lacking behind like never before. Every time I type "eCommerce Trends" on the search engine, I am most likely to find new ecommerce trends around the corner. This is pretty bizarre, yet we have to keep up with it or else we might have a lot to lose.
The rise of the eCommerce Industry
eCommerce is no longer a buzzing term, it has successfully changed our lives by redefining several activities such as shopping, buying groceries, home decor, electronics, etc. Jumping on the bandwagon of eCommerce business seems a sure-shot way to succeed. Now we all know what eCommerce is right? The process of buying and selling products online. However, what you may not know is that the explosion is spreading like a fire.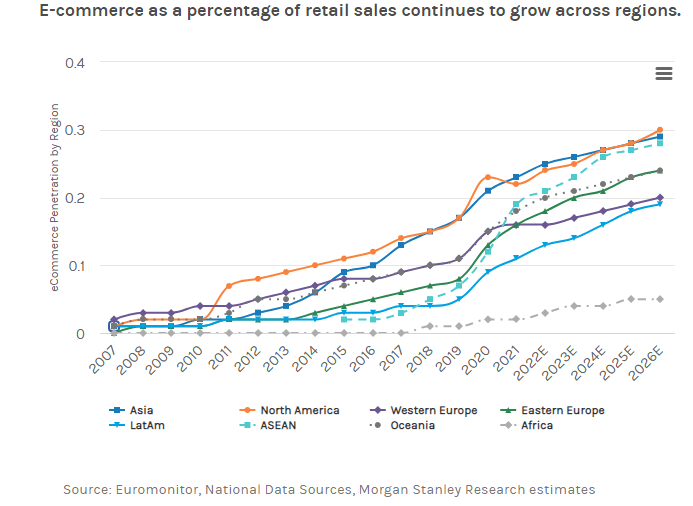 If we take a look region-wise, then eCommerce seems to have covered almost 70% of the globe successfully and seamlessly. And when you break things down, you will find China with $740 billion while the US accounts for $560 billion, the UK with $93 billion and India to reach US$188 billion in a few years down the line. 
You see with more and more penetration and accessibility of the internet, the eCommerce industry will keep on rising like never before. No wonder, the concept of having tons of profound benefits has become mainstream in people's day-to-day lives. It has already become mainstream in daily life. One fine day, you will find it breaking the net accounting for double-digit growth in those locations where it's not even there such as Africa and the Middle East. Wondering how?
Here you get a wide range of payment options, e-wallets, net banking, COD, etc.
Seamless exchange and return policies
You get the privilege to order sitting right from your home
Smart shopping is possible by using options such as AR/VR, 360 -degree view, etc.
 Saves ample of time and energy
You are most likely to purchase all the items on your checklist in the least amount of time.
Above all, you are privileged enough to get the product delivered within a span of days or hours. Yes, you heard it right, hours! Amazon offers this privilege to deliver products in the least amount of time, i.e. 2-4 hours for its valuable customers. So I say when you get all these benefits and advantages in a one-stop-shop destination then why the heck does not anyone prefer these eCommerce stores over those conventional brick-and-mortar stores?
Now if I may ask who has the most purchasing power or who should be your target audience? It has to be no doubt, millennials, and GenZ. People born from 1984 to 1994 are the ones who have the ability to spend millions, billions, and trillions on an annual basis. Also, changes in consumer behavior are inevitable day in and day out. And COVID-19 plays a very pivotal role in the rise of the eCommerce industry.
Further, I would like to shed some light on some of the most crucial eCommerce trends to take into account for 2022 and a few years down the line.
Top eCommerce Trends To look Forward in 2022
#1 Artificial Intelligence and Machine Learning
Now you must be wondering how these disruptive technologies are shaping the eCommerce industry. Technology and eCommerce are like chocolate and peanut butter, they do have a pretty kind of symbiotic relationship with each other. The mass adoption and demand for smartphones and other computing devices, certainly call for the trillion industry to keep growing at a fanatic pace. eCommerce is one of a kind concept that seems to have always embraced and made the most of the different new and emerging technologies right from the start.  And artificial intelligence and machine learning are no exceptions. It's well known that ML and AI companies are transforming the e-commerce and retail industries.
Now you must be wondering how AI and ML can assist your eCommerce stores to grow and expand significantly.
Conversions – Now I am sure you do know the importance of increased conversions. Well, by using these disruptive technologies such as AI and ML, eCommerce stores can easily boost their conversion rates. Have you heard of smart search results? Yeah, they are much faster and better in comparison to the generic ones. For example, let's say most of your target audiences are looking for the new iPhone 14 instead of One plus 10. So what your store can offer is to recommend the Apple product then and there or on social media feeds instead of other options. By doing so, the consumer will directly reach the product without any hassle and end up purchasing the product immediately.
Personalization – The next advantage of using artificial intelligence or machine learning technology for your eCommerce store is it offers an immense amount of personalization. Now your customers will always remember how you made them feel when they reached your store, so don't miss this chance of grabbing their attention in the long run. These technologies certainly assist in understanding the needs and demands of your current end users and offer them personalized services easily. Try to enhance your store with relevant recommendations and nothing can stop you from increasing sales.
Predictive Analysis – Lastly, AI and Machine Learning have the potential to understand your customers way more than you think. Whether it's based on their search history or previous purchases, or window shopping pattern, you are more likely to receive important insights within regular intervals. Also, after going through such data and analysis, you can offer personalized offers or discount coupons again to increase sales.
#2 AR/VR is in Vogue!
Our next emerging eCommerce trend is AR/VR. After Pokemon Go became a massive hit, people including techies and non-techies have started becoming well acquainted with these bizarre yet intimidating technologies. Slowly and steadily, AR and VR technologies are found penetrating our day-to-day lives through eCommerce and several other mainstream industries. Now earlier it was observed that people do visit your store, they even end up liking the product but when the time of checkout comes, they abandon the cart and leave. Almost 70% of shoppers used to abandon their respective carts just because they feared that the product wouldn't fit. So in that case what should online retailers do, how can they persuade their customers to make the purchase?
Here AR/VR technology comes to play. Augmented Reality and Virtual Reality have been trending a lot lately and will be seen reshaping the eCommerce industry. Here's How!
Try before you Buy – One of the most crucial advantages offered by these technologies is that it offers the option of trying before you buy right then and there. With the help of virtual tools, customers can easily try the product and make informed decisions right then and there. Also, you will get to know which brands manage to meet customer expectations and which don't! With the virtual try-on option, customers can try the product virtually on themselves. As a result, more and more customers will visit your store just for the sake of enhanced shopping experiences. For example, IKEA launched the AR catalog app enabling customers to see how certain items would look in their real homes. After which, Converse and Lego seem to have started using the technology as well.    
Convenience – Another interesting benefit of using AR and VR technology is that though you are visiting a virtual store, it doesn't mean it won't be offering any real-store experience. In fact, the space often makes online shopping more convenient, seamless and free of any kind of stress or anxiety. These real-life experiences can definitely save ample time while they can enjoy their leisure time and shop.
Saves Money – As I said, here you do get to try before you buy so you won't be wasting products that don't seem right to your place. There was a time when customers discovered that the product wasn't right once it had been brought home, which can be pretty disappointing, tiresome and daunting. Here all you need to do is stand in your living room and put the headset on, start buying.
#3 Personalized Experience is all that matters!
No matter which technology or trend you follow, personalized experiences or customized experiences have always been and will always remain a trend! As the name implies, here eCommerce store owners must offer products and services that are relevant to the particular customer. According to stats, around 80% of customers are more likely to buy the product, especially from the stores that end up offering a personalized experience instead of those that don't.
Enhanced brand engagement – Now when you exactly know what your customers want to shop for and what type of products they are more likely to buy. When this happens, eCommerce store owners do get a fair chance to enhance engagement and interact with the brand. With personalization, you can exactly show and offer your end users what they're looking for before they buy.
Enhanced customer experience – Another advantage of personalized experience is enhanced customer experience. By doing so customers are going to love their shopping time and enjoy the experience. Even on an ordinary day, they can feel special just by your strategies. Try showing all the products they want to see, offer quick access, and keep them updated in regard to relevant discounts and promotional offers. Try to come up with more and more ways of enhancing their buying experience and compelling them to shop from your store again and again.  
Final Words
Of course, this is not it. Several other trends are going on such as chats for personal interaction, Buy now pay later options, diversified payment options, video marketing, social commerce, and so more! However, the aforementioned ones are the best ones to take into account and you can never go wrong with them.
I hope you did enjoy reading the post. In case, if you have any doubts or queries, feel free to mention them in the comment section below.