Everyone is talking about it, most brands have tried it, and others remain skeptical. What is it? Influencer Marketing. The current buzzword and latest social media marketing trend is a popular way to grow brand reach, social media following and most – importantly, sales.
What Is Influencer Marketing?
Influencer marketing is a word-of-mouth marketing strategy that involves identifying and engaging with influencers and their followers by sharing content, thoughts, and opinions online about a brand's products, services, and experiences. As mentioned, many big brands rely on the use of influencers and have taken full advantage of its provided success. Daniel Wellington, Frank Body, Triangl Swimwear, Coachella, … just to name a few who have reaped the benefits.
Depending on your brand, your campaign objectives, as well as your budget, that will define what type of influencer you decide to partner with. There are three types of influencers: micro, macro, and celebrity.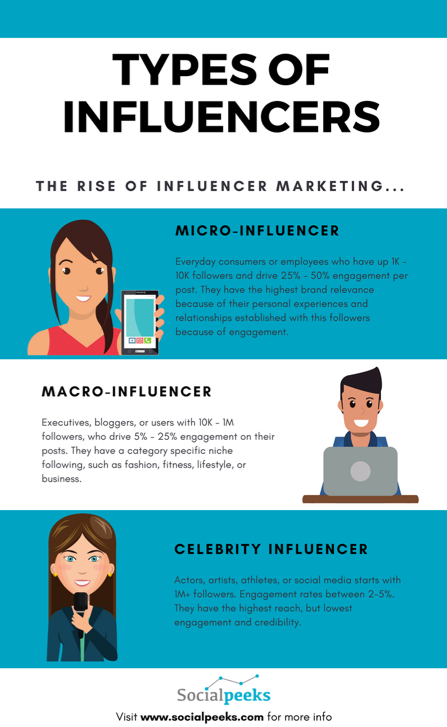 How Micro-Influencers Can Increase Sales  
TapInfluence partnered with Nielsen Catalina Solutions in 2016 which revealed that influencer marketing generates 11 times the ROI of traditional digital marketing. So… just exactly how can micro-influencers increase your sales?  Check out our 6 ways that micro-influencers will increase your sales in 2018!
Reach
By selecting the right influencers, you gain access to their niche following base.
Believe it or not, it can be better if your influencer's audience it relatively small, especially if you have a specialized product offering. You want your influencers to reach audience members who are most likely to participate in the call-to-action and become your customer. By utilizing a micro-influencer campaign, you are able to reach a new set of users who would be interested in your product but might not have otherwise known or shown interest in your brand without being backed by a credible influencer.  
Brand Messaging
Partner with a micro-influencer that resonates with your brand. You will want to find an influencer whose audience isn't so large that your message will get lost, but also large enough that your message will reach potential qualified leads.
Developing your brand message is crucial for awareness, therefore, you want it to remain consistent even throughout the influencer marketing campaign process. Although you want the brand messaging to remain the same, don't restrict the influencers access to creative control. They know what their followers best engage and interact via certain language and design, and they too need to remain authentic.  
Trust
Successful influencer marketing depends on trust. Influencers are known to have their followers best interests in mind when posting, which makes them credible and trustworthy. Typically, consumers trust their peers and the recommendations they provide, hence why brand marketers are turning to influencer marketing. This is because micro-influencers remain unbiased as the relationship is based off similar beliefs and values and not-necessarily a paid advertisement, whereas a celebrity-influencer receives compensation for their posts. Trust isn't only found in the influencers, due to this strategy is also establishes consumer trust for a company.
Loyalty
Influencer marketing allows for brands to build loyalty through influencers themselves. By choosing an influencer who personally reflects the brand's values, the organization can leverage that influencer to increase customer loyalty.  
Trackable Sales
Tracking sales can be difficult to begin with, and adding in an influencer marketing campaign just makes the process even more complicated. This is because the sales cycle can extend beyond just the campaign, making continual tracking essential for measurement and results purposes. There are a few ways to track influencer marketing-powered sales via UTM parameters such as comment to buy, tracking pixels, x-hour window, retargeting, promo codes.
Engagement
Research conducted by PWC shows that revenue growth is tied to customer engagement. With micro-influencers, you are guaranteed to have higher engagement. Another study by HelloSociety revealed that micro-influencers are able to generate 60% higher engagement than other traditional means. Due to the strong relationship and sense of community established between the influencer and their followers, they are more likely to interact with posts. Engagement is created through consistent communication with their followers. Engagement can be measured by reviewing social analytics such as clicks, likes, reactions, shares, comments, and mentions.
Influencer marketing is truly a growing and effective trend. If you haven't done so already, definitely explore this marketing strategy for your brand. To recap, working with a micro-influencer to promote your products provides you with access to a larger reach, strengthens your brand messaging, builds trust and loyalty, provides you with trackable sales, as well as increased engagement levels. When you're successful complete with your micro-influencer marketing campaign, you will have boosted sales.
Want to know more about this topic and how to get started with your own campaign? Reach out to our friends at Socialpeeks, as they promise that the "results of influencer marketing have shown to have one of the highest ROI of any digital marketing activity".
Author:
Brooklynn Boyer is Marketing Director for Socialpeeks, a marketing technology company that runs wildly successful influencer marketing campaigns with the help of its campaign management team. Visit www.socialpeeks.com to learn more.